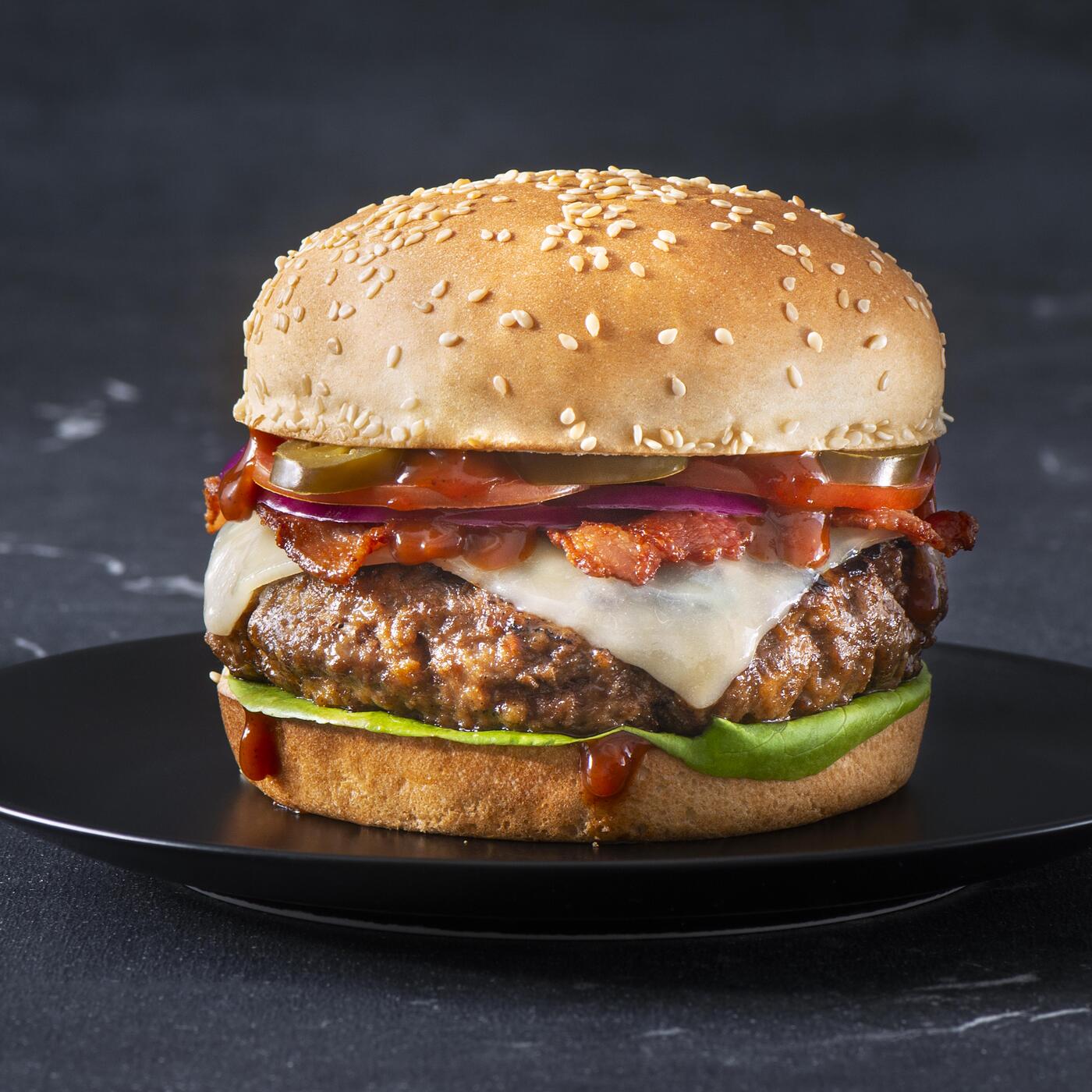 Prep Time: 10 mins
Cook Time: 20 mins
Servings: 4
Spicy BBQ Burgers

Rate this recipe for points

7
Double up on your favourite flavours with these Spicy Double-Decker Cheeseburgers stacked on Dempster's® Signature Hamburger Buns. Hot sauce, pickled jalapeño peppers and BBQ sauce amp things up for a delicious burger with extra bite. They're great for grilling at family dinners and summer barbecues. Serves four.
Ingredients
4 Dempster's® Signature Classic Burger Buns
1 lb (500 g) lean ground beef
1/4 cup (60 mL) breadcrumbs
1 egg, beaten
2 tbsp (30 mL) hot sauce
1/2 tsp (2 mL) each salt and pepper
4 slices Monterey Jack cheese
1/2 cup (125 mL) barbecue sauce
1 head Boston bib lettuce, separated
1 tomato, sliced
1 red onion, cut into rings
8 strips of bacon, cooked
1/4 cup (60 mL) sliced pickled jalapeño peppers
Directions
Mix together ground beef, breadcrumbs, egg, hot sauce, salt and pepper.
Divide into 4 portions; shape each portion into a 1/2-inch (1 cm) thick patty.
Preheat grill to medium-high heat; grease grates well.
Grill burgers for 5 to 7 minutes per side or until an instant-read thermometer inserted into the centre of the burger reads 160°F (71°C).
Top each burger with a cheese slice; cook for about 1 minute or until the cheese starts to melt.
Meanwhile, grill buns for 30 to 60 seconds or until lightly toasted.
Assemble burgers in buns with barbecue sauce, lettuce, tomato, red onion, bacon and pickled jalapeños.