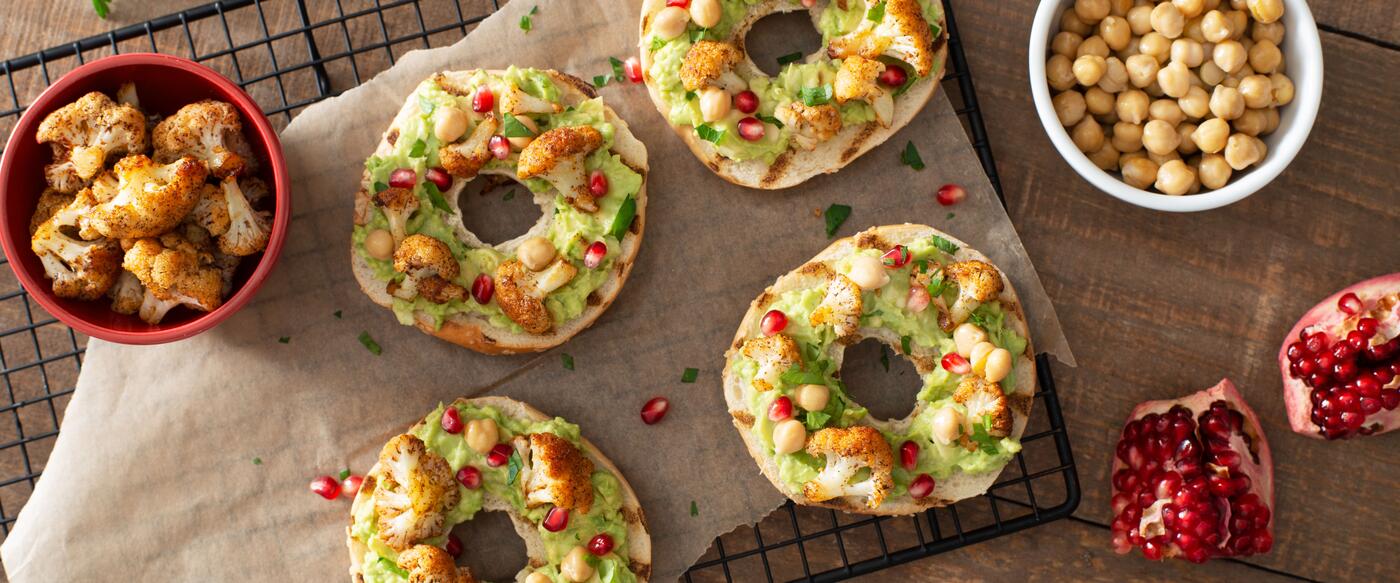 Prep Time: 10 mins
Cook Time: 35 mins
Servings: 4
Vegetarian Avocado, Chickpea and Cauliflower Pizza

Rate this recipe for points

2
Our Vegetarian Avocado, Chickpea and Cauliflower Pizza is ideal for lunches or weeknight dinners. This recipe uses Dempster's® Sesame Bagels instead of dough to quick-start the pizza process. Plant-based toppings add welcome texture and a lot of flavour. Serves four.
Ingredients
2 Dempster's® Sesame Bagels, split
2 cups (500 mL) small cauliflower florets
1 cup (250 mL) canned chickpeas, drained and rinsed
1/4 cup (60 mL) olive oil
2 cloves garlic, minced
1/2 tsp (2 mL) each salt and pepper
1/2 tsp (2 mL) smoked paprika
1 ripe avocado, halved, pitted, peeled and mashed
1 tbsp (15 mL) lemon juice
1/3 cup (75 mL) pomegranate seeds
2 tbsp (30 mL) finely chopped fresh parsley
Directions
Preheat oven to 450°F (230°C).
Toss together cauliflower, chickpeas, oil, garlic, salt, pepper and smoked paprika.
Arrange in single layer on parchment paper-lined baking sheet.
Bake for 20 to 25 minutes or until golden brown and tender.
Preheat grill to medium-high heat; grease grate well.
Grill bagels, cut sides down, for 1 to 2 minutes or until grill-marked and toasted.
Mix mashed avocado with lemon juice; spread over each bagel half.
Top with roasted cauliflower mixture.
Sprinkle with pomegranate seeds and parsley.